The Pocket Tripod is a highly engineered product, and is made of high-tech plastics. It's patented design, makes it the most original portable iPhone stand on the market. At Geometrical Inc. we are so proud and confident about the Pocket Tripod, that we're backing it with a Lifetime warranty.
What is covered
The main concern of our customers is whether or not the Pocket Tripod's circular rails (sliders) responsible for adjusting the iPhone's angle will stand the test of time. The Pocket Tripod has been designed and manufactured with such high standards, that we proudly stand behind our product and guarantee that it will. The circular rails (sliders) are in fact covered under our lifetime warranty for the Pocket Tripod against wear and becoming loose.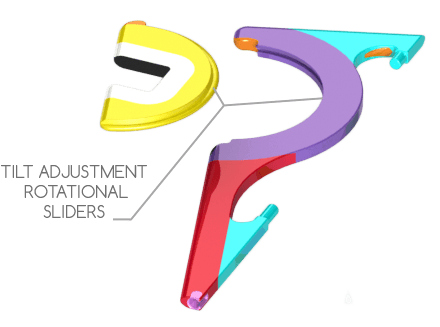 If at anytime when using the Pocket Tripod, the circular rails (sliders) of your product lose friction to the point that your Pocket Tripod is not able to hold an iPhone at any specific angle in either landscape or portrait, Geometrical Inc. will gladly replace your Pocket Tripod with a new one of the same model.
Manufacturer's defects and or poor workmanship are covered under our warranty. When you receive your Pocket Tripod, and unpack it, if you notice any defects that may have been missed during our quality inspection, be sure to notify us, and we will be glad to replace your Pocket Tripod for you.
Damages during shipping are also covered by our warranty. After receiving your pocket tripod, please inspect it for any damages that may have been caused during shipping. Although this is unlikely, it can happen. If any bent or broken pieces are found, please notify us of this, and we will be happy to replace your Pocket Tripod.
If any of the parts come apart, reconnect them by following the correct instructions. For any help, please contact our customer service: Support@Pocket-Tripod.com
Conditions
We provide the lifetime warranty for the Pocket Tripod to enhance the experience of our customers, and help them purchase with confidence. This gesture of good will should be respected and not be taken advantage of. The following conditions should be met before Geometrical Inc. fulfills its warranty.
The customer will need to contact Geometrical Inc. by emailing Support@Pocket-Tripod.com as soon as defects are discovered, and provide evidence of them. Evidence can be in the form of images and videos. Instructions will be provided in reply to the email from customer. Upon determination of a valid condition by Geometrical Inc., the warranty will be fulfilled.
In the event that the customer's Pocket Tripod is damaged due to fair-use, it will be replaced by Geometrical Inc. with another Pocket Tripod compatible with the device which the original purchased Pocket Tripod was compatible with. In this condition, the customer will need to prove that they in fact still own the same model of iPhone which the Pocket Tripod in question is compatible with.
We cannot guarantee that the replacement Pocket Tripod will have the same colour as the one originally purchased.
The customer will need to send Geometrical Inc. the damaged Pocket Tripod, and pay for shipping and handling of the replacement, of the amount quoted at the time of replacement, reflecting the shipping costs of that time.
Pocket Tripods showing any defects in craftsmanship, or damages caused during delivery will need to be presented to Geometrical Inc. within 14 days of receiving the product by emailing Support@Pocket-Tripod.com and if it is determined that the damages are in fact caused by these reasons, the product will be replaced at no charge.
In the event that a replacement component, or complete assembly of a Pocket Tripod is not available to be sent to the customer with valid conditions, Geometrical, Inc. will refund the customer for the amount that was paid.
If you wish to discuss this policy
Please contact us by emailing Info@Geometrical-inc.com, and we will be happy to answer your questions.
Disclaimer
Geometrical Inc. reserves the right to repair or replace, at its sole discretion, any product or component found defective under this warranty. Geometrical Inc. reserves the right to replace defective products or components with products or components with equivalent or better performance. Geometrical Inc. assumes no responsibility or liability for expenses incurred for the troubleshooting, removal and/or installation of products requiring service and/or repair, nor for the handling of products returned to sender after the service has been rendered. Geometrical Inc. shall have no responsibility to service, diagnose, repair or replace products in the field. No person, agent, or representative, other than an officer of Geometrical Inc., is authorized to give any additional warranty on behalf of Geometrical Inc.. Geometrical Inc. reserves the right to alter the terms of its warranty without prior notice and without incurring obligation.